Brother Printer Black Ink Not Working? Follow These Fixes
Brother printers are one of the most popular printing machines in the market. They perform the job of multi-color printing pretty well. You can observe their usage, especially in offices that need color printouts. However, it is not always that they will perform smoothly. Often, you may find problems like Brother printer black ink not working.
It is in stark contrast to the usual performance of the printer, wherein it completes the task in a few moments. Well, there are various causes behind this problem. In this article, you'll learn about them as well as the troubleshooting to employ when your Brother printer doesn't print black.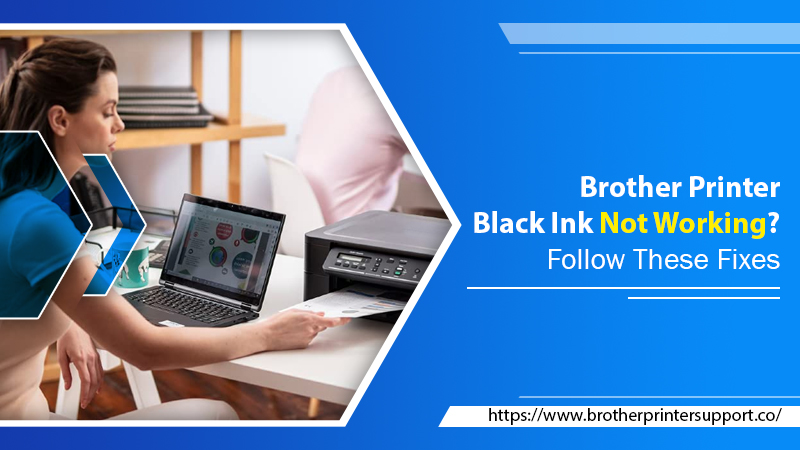 Why Is Your Brother's Printer Black Ink Not Working?
The most prominent cause of printers not printing black ink Brother is empty cartridges. Given below are some common reasons why users face this problem.
The nozzles of the printer are clogged.
Your Brother printer's printhead is not clean.
Problems with cartridge setup can also lead to this issue.
There are problems with the corona wire or data cable.
Issues with windows settings or printer driver are another common cause.
Troubleshooting Brother Printer Black Ink Not Working?
It is advised to cancel all print jobs when facing this problem. Read on to know what other things you can do to make your printer work optimally.
Inspect the level of ink
When your printer prints blank instead of black text, the first step should be to inspect the ink levels on your device. You must check whether the cartridge has adequate blank ink. Otherwise, it cannot print documents. Here are the steps you should follow to find out about low ink.
Power on your printer.
Now hit the 'Home/Menu' button.
Navigate to the 'Ink' section.
Next, tap 'Ink Volume.'
Then press 'OK.'
If you notice your printer showing a low ink level, replace the cartridge.
Ensure that the printer detects the cartridge
After installing a new toner cartridge on their Brother printer, many people find that it doesn't print black. In this case, you must ensure that the device identifies the ink cartridge. If it doesn't detect the cartridge, you'll find your Brother printer not printing black. After that, check that there isn't any protective tape on the cartridge. If there is a protective seal, remove it and reinstall the cartridge into your device.
Inspect whether the ink is dried
People who don't use their Brother printer for an extended period will often complain about their Brother printer black ink not working. Note that apart from infrequent use, the expired cartridge also leads to this problem. So, it's advised not to store cartridges for more than a year or 12 months to avoid this issue. You must also store them in a dry or cool place away from direct exposure to sunlight.
Install another cartridge
Brother printer will not print if you use cheap-quality ink. The printer is unable to detect these kinds of black ink cartridges. So, you need to replace the ink cartridge with a new one from Brother printer. Follow these steps to install another cartridge.
Open your Brother printer's front panel.
Lift the lock lever to unlock the black ink cartridge.
Now, gently take out the cartridge.
Next, you need to unpack the new cartridge and take away its protection tap.
Take this cartridge and insert it into your Brother machine's black cartridge slot.
Pull down the lever to lock the cartridge.
Lastly, close the front cover. After that, reboot your printer.
Clean the printer's printhead
Another common cause for Brother printer black ink not working is print heads jammed with chunks of ink. In such a case, you will get blurry prints from your printer. You can clean the printhead by following the method below.
Switch on your Brother printer.
Now, hit the 'Home/Menu' button.
Go to the 'Ink' option by employing the up and down key and pushing the 'OK' key.
Now, go to the 'Cleaning' option. Use the arrow keys to do so and push the 'OK' button once again.
Choose 'Black colour' and hit the 'Clean' option.
Its advised that you follow this printhead cleaning twice and then give a print command to your printer.
Clean the nozzle manually.
At times, ink particles get trapped in the cartridge nozzle. It prevents ink production to the printhead, which results in brother printer not printing black. Your printer unclogs the nozzle automatically while cleaning the printhead. But sometimes, you need to clean it manually. Follow these points to do so.
Connect your printing machine to your system.
Head over to 'Control Panel.'
Next, tap 'Devices & Printers.'
Right-tap' Brother printer property.'
Next, hit 'Printing Preferences.'
Navigate to the 'Maintenance' tab and click 'Nozzle Cleaning.'
Lastly, press 'Start.'
Reinstall the driver
Do you find Brother printer black ink not printing even after using all the aforementioned techniques? In this case, you should uninstall the printer driver from your system and download a new one. After that, install the downloaded driver. The steps for doing so on Windows and Mac are listed below.
Windows
Head over to 'Programs and Features.'
Pick your Brother printer driver and tap 'Uninstall.'
On the User Account Control, hit 'Yes.'
Lastly, click 'Uninstall.'
Mac
Go to 'System Preferences.'
Hit 'Prints & Faxes.'
Now hit your Brother printer and click the '-' option.
Now click 'Remove.'
Fix the paper jam
If you experience a paper jam problem before you found your printer not printing black, you must fix the paper jam problem first. Use these steps.
Use both your hands to lift the scanner to an open position.
Now inspect the right- and left-hand parts.
Also, check under the printhead for any scraps of documents or debris. You can move the printhead from side to side if required.
Remove any objects that you find stuck. Use a flashlight to make sure that you don't miss anything.
Lastly, close the scanner through the fingerholes present on both sides.
Final Thoughts
Brother printers do not give a hard time to their users in a majority of instances. However, when you find Brother printer black ink not working, you can implement the techniques above. Also, don't worry if you find the methods not giving you the desired result. In such a case, you can go ahead and connect with expert printer technical support services.