How Do I Fix Brother Printer Paper Jam Problem?
Brother printer paper jam is amongst the most reported problems that literally frustrates the users to the core. To fix it, sometimes a user needs to half-dismantle the Brother printer and remove the stuck pieces of paper.
Usually, users ask, why does my Brother printer keep saying paper jam! Or what do I do when my printer says paper jam but there is none? Well, that seems an easy problem to deal with, as you can simply remove the torn or damaged paper and get your printer running. But wait! That's just a temporary solution and if not treated to the core the paper jam issue can dead your printer.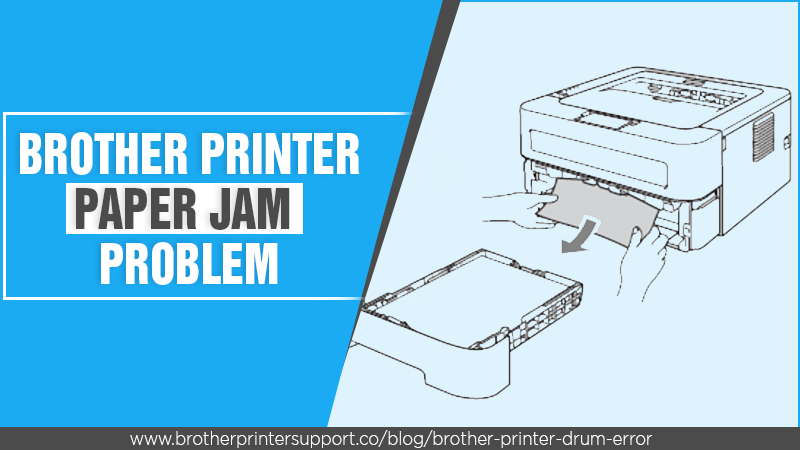 So, what's actually causing the Brother printer paper jam issue? Is it just due to a bad paper quality or an overloaded tray is causing paper jam problems? Or whether the paper is jamming due to software or hardware issues. Well, let's stop brainstorming and explore different reasons for the paper jam issue and how to deal with them all.
What Leads To Brother Printer Paper Jam Problem?
There could be several reasons causing Brother printer paper jam problems. Here we have listed down all the possibilities that should be considered the culprit.
An overloaded paper feeder tray.

Using the wrong paper type to print.

Accumulation of too many commands in a row.

Paper feeder rollers are dirty or in a bad shape.

Paperclips, glue, or a sticky substance on the paper.

Hardware or software problem.

Paper is not placed rightly on the feeder tray.
How Do I Get Rid Of Brother Printer Paper Jam Error? 

 
You can fix the Brother printer paper jam error by following some simple tips. If you think you are not tech-savvy but still want to clear the paper jam, then the following steps will be of much help. What's more exciting is you don't have to be a technical expert to fix the problem. So, here's what you need to do.
Solution 1. Don't overload the paper feeder tray
Feeder trays are designed to handle the limited stack of papers which if overloaded leads to Brother printer paper jam. Each Brother printer model is designed to work in different capacities. You should refer to the printer manual before loading it with a paper stack.
If it says to load 20 sheets of paper at a time, then don't go beyond that. However, you can increase the paper loading by 5% as it won't affect the printer's functionality, but more than that can jam paper inside.
Besides, you should also make sure to place the paper rightly on the feeder tray to get the optimum printing results.
Solution 2. Choose the right paper to take prints
Selecting the wrong paper type and expecting great results is just like dreaming to reach your destination without fueling your car. One thing we should understand – the printers are tiny machines for whom to work optimally, it will need good quality and right paper type.
Simply said you shouldn't try to print a document on a photo paper and vice versa. Also, you can't insert a bulky piece of cardboard into the machine to receive a routine printout.
The office and home Brother printers are sensitive to folded papers or even minor cuts, which if ignored will eventually cause Brother printer paper jam.
Solution 3. Do not hit the print command many times
Out of frustration we sometimes keep hitting the print command to bring a jammed printer back to life. But all in vain as it doesn't respond and leads to the accumulation of pending print commands.
Such user behavior triggers many issues and paper jam is one of them. To not fall into such trouble you should avoid hitting the print command and wait for a moment to see some movement in your Brother printer.
Solution 4. Clean the paper feeder rollers 
Dirty and dusty paper feeder rollers won't pick the papers or may even jam the papers. To prevent the paper jamming issue, you must clean the rollers from time to time.
The process is pretty simple, turn off your printer, open the printer front panel and locate the feeder rollers. They are generally easily visible or you may take the help of a torch to locate them. Now take a cloth and gently clean the rollers. You can also take a neat paper, pass it through the rollers to reach the inner liner.
Solution 5. Do not insert paper with foreign material 
That's one of the most ignored aspects of the paper jam problem. Often users forget to unpin paper before inserting it into the feeder tray which further gets stuck in the feeder roller causing a paper jam. Hence you must examine the paper thoroughly before keeping it on the feeder tray. Moreover, you should be aware of what can be printed upon and what can not. Here is the list.
Say strict no to these paper types-
Stapled paper.

Pinned paper.

Clipped paper.

Paper with holes on the surface.

Sticky paper or sticky notes.

Undersize or oversize paper.
Solution 6. Check Brother printer hardware and software 
While facing the Brother printer paper jam issue an error with printer hardware and software can not be ignored. An outdated Brother Printer Software alone often leads to various printing issues.
To fix it you must update the printer software to the latest version. To get it, you must visit the Brother printer support website, follow the on-screen instructions, and install the new software version.
Sometimes, troubled printer hardware also jams the paper inside the printer, and to diagnose it, you might have to take help from printer technicians.
What to do when you first see Brother printer paper jam?
As soon as you encounter a paper jam issue in your Brother printer, you must follow a few SOPs. Here are the steps to help you remove a jammed paper and fix the issue from its root.
Be patient and uninstall the paper feeder from the printer.

For uninstallation instructions, you must refer to your printer's user manual.

Now slowly remove the jammed paper from your printer.

If the paper jam is inside, then open the printer panel and gently remove the piece of paper.

Make sure not to leave even a single torn piece.

Check the printer's LCD panel, if it doesn't show Ready, that means there are still some pieces left inside.

Remove them all to get your printer back to work.
Does the Brother printer keep jamming still? Call the experts 
Well, any of these six solutions should work in order to resolve the Brother printer paper jam issue. However, if you still face any trouble overcoming it or do not want to fix it by yourself then you should contact the experts at Brother printer support number. We would love to handle the paper jam problem for you. Connect with us today.